Better DIY Kits & Parts…
This isn't our first rodeo.  We've been around since 2004 and love to serve people so we take the time to do things right because we want you to love us back. Our online store sells the highest quality DIY repair kits and individual parts so you can fix your own devices. We help out by producing the best training, the best tools, the best warranty, and most of all… the best support there is.  Give us a shot!
PHONEDOCTORS® Store Locations
We love to bring new life to your mobile device… Every store is able to repair most mobile device issues.  We carry devices for sale on all popular networks and showcase only high quality accessories to protect and pretty up the look of your device. We pay cash on the spot for the mobile devices you no longer need.
If you live outside our location area(s), consider mailing your device to receive a fast, fair, and quality repair.
Fast, Competitive, and Quality
We know how important your device is to you and getting it fixed fast is key. If you aren't close to one of our stores and want us to help, we would love to and have a way. We're a company who will protect & honor your device privacy as well as provide a competitively priced, quality repair service treating you right from admittance to discharge

FYI, most devices get repaired the same day we receive them.

Our technicians are skilled and ready to repair today's newest models like iPhone 6 screen repair to a Galaxy Note charging port replacement. The question is, what don't we repair. If it's one thing we do best, it's we bring #NEWLIFE to your mobile device!

We're much more than just a repair center at PHONE DOCTORS. We love to buy, sell, and trade mobile devices and giving our customers the most value whether we're buying it from you or vice-versa.  When you buy, sell, or trade-in your mobile device, trust that you will receive a fair and competitive price with an outstanding warranty.

Ugh…$40 for a new data cable and charging block from Apple®?  We know how expensive it can be for a simple accessories from your carrier or manufacturer.  We think it should be cheaper and just as trustworthy.  Come see us for a great selection of quality products to fit your new device.

Unlocking for GSM Carriers
Going overseas?  Change carriers, but don't want to buy a NEW phone?  We can help.  We unlock most GSM (SIM-Card Style) phones to be used on other GSM Networks indefinitely.  This means you can now move from carrier to carrier and use the same device.  It's your device, use it with who YOU want.
Own or Manage a Fleet of Devices?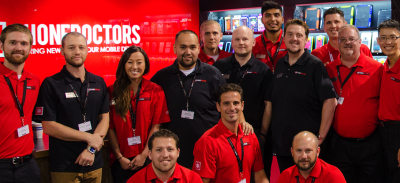 PHONEDOCTORS® Corporate Advantage Services

We believe every business has to earn their business, and that's why we're continually thinking way outside the box to earn yours. We're excited to introduce some creative ways to earn your business.  Did you know that your devices are worth a significant amount when it's time to upgrade / trade-in and way more than what your currently being paid?  How about traditional mobile device insurance?  It's a thing of the past when you discover just how good PHONE DOCTORS can take care of you. We bundle it into our Advantage Services for your maximum return.  Think of us as a strategic partner who's looking out for your interests.