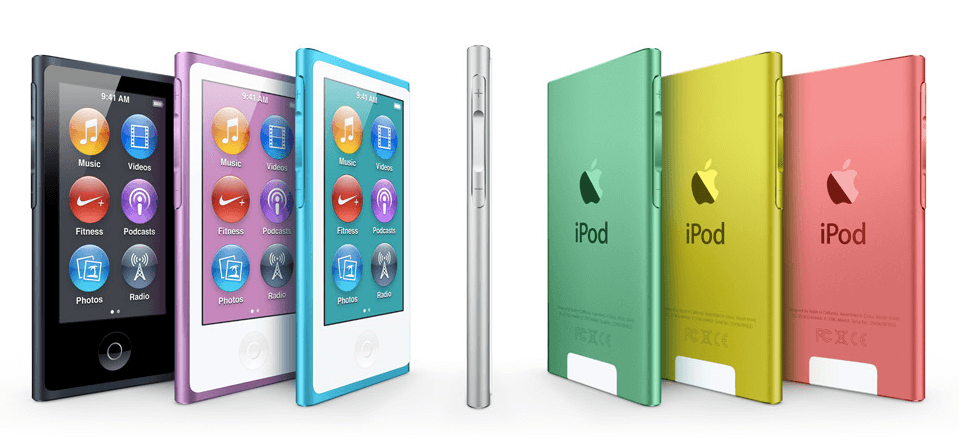 Apple unveiled the iPhone 5 to rave reviews. The release of the newest incarnation of the company's phone was combined with an unveiling of the newest and 5th generation of the iPod Touch and a completely redesigned iPod Nano. These products are the first to be unveiled following the death of co-founder, Steve Jobs, on October 5th, 2011. The new iPod Nano has a completely new look to it, and it is something that many Nano owners might want to consider upgrading to.
The New iPod Nano 7th Generation
The new Nano is getting a 2.5-inch touchscreen display. The previous incarnation of the device featured a 1.54 inch screen. The new device will also be offering video playback, a feature that was mysteriously absent on the previous generation, and a flurry of app support and features that were not possible on the last version of the Nano. It is also the thinnest iPod ever made and comes in a variety of appealing pastel colors. The uni-body design appears to have an aluminum-like appearance.
Now, to say the iPod Nano has been the most redesigned device in Apple's history is an understatement, at least aesthetically redesigned. The Nano unveiled as a thinner, trimmer version of the iPod Mini in September of 2005. Since then it has been modified several times; they made it squarer, than shorter and fatter, than taller and leaner again, then a miniscule square. This Nano, which will be the 7th generation of the device, looks to be a mix between the slender aesthetics of the 4th and 5th generation Nanos and the famously-popular, iPod Touch.
The new Nano also features an integrated volume rocker that will also function as the pause mechanism for live FM. The device will be shipping with the new "EarPod" earphones that were unveiled at the same event. The device does not have WIFI capabilities, nor an internet browser.
Our Take on the New Nano
While the device surely is beautiful and will likely meet the needs of Apple fans on a budget, however, repair technicians are bracing themselves for another change to the Nano anatomy. Thankfully, this time around, it seems the Nano is mimicking the iPod Touch and iPhones in style and structure so repair should be easy enough to figure out.
The true concern should be parents who place these little devices into the hands of youngster. Surely, the colors, size and price tag make it look like a perfect starter MP3 player, but the touchscreens on such devices can and do break. Thankfully, repair options are not too difficult to come by.
The price tag for the new iPod Nano is reasonable and the device looks like it will make a serious splash with the demographic looking for an Apple product with more to offer than the Shuffle, but without the hefty price tag of the Touch. The device will begin retailing at $149 for the 16GB incarnation.