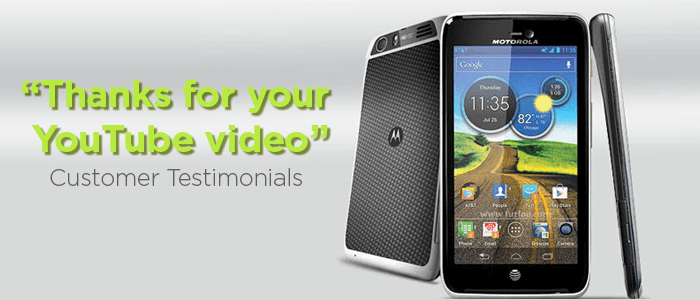 It's true, we do sell parts and DIY kits for many major phone models out there but that isn't ALL we do here at Phone Doctors! We also do the repairs for you in any of our 6 corporate locations or via our National Mail-In Repair service; and then there are the videos!
We have an extensive repair video library available on YouTube that we are always adding to! We show step-by-step how to do many repairs on different phones and other news and fun videos. This week we have a comment from Rosemary G. on our Facebook page. She used our YouTube video to repair her Motorola Atrix HD and has some kind words for us!
What the Customer Said:
Just wanted to say thanks for your YouTube video on repairing my Atrix HD. Thanks to your easy to follow video I was able to replace my broken LCD screen at a fraction of the cost of my deductible alone! No more black chunk on the right side as you can see in the screen shot. I am a happy, happy girl tonight! You guys rock!
Thank you for sharing!