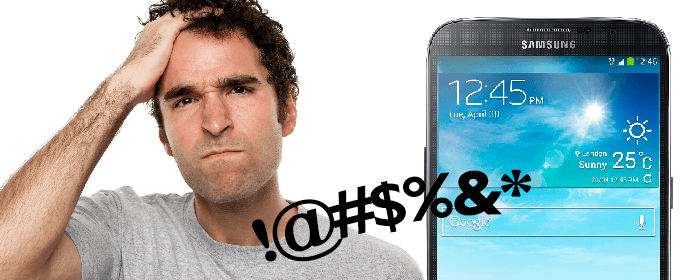 About 3 or 4 months ago, Samsung released a new phone intended to be the offspring between the Galaxy Note and the Galaxy series, called the Mega.  It took off well with great popularity.  As we got into the device and had a repair blog up, many of you commented – and boy, did you ever!  The device seemed to be known for software issues, which even Samsung acknowledges politely – and has been offering replacements to those whom are frustrated.  So if you are finding your Mega to be in trouble, some of these greater comments should let you know you aren't alone:
S.O.S…er…Phone
"I honestly have no idea what wrong with my Galaxy Mega, I have tried everything possible but nothing seems to work.  I just bought it 3 weeks ago. The first week it was great, ran fast and smooth. But then a couple days later it starts slowing down, loads slow, when buying apps it says error and some numbers, & the connection is just horrible. Please help me, I like this phone but it's lagging on everything."
"My galaxy mega randomly links my contacts. I go through and unlink and delete, but then different contacts will be linked again. The contacts have nothing to do with each other and I will not have recently called the contacts that link up. There are links from inside the device and Google when I unlink these contacts."
It Lives!
This led to a few software updates, as Samsung attempted to reverse the errors.  Very strong and honest attempts were made, but the phone continued to fight its creators:
"I have a Galaxy Mega 5.8. It works normally, but it won't go to sleep mode when you are not using it. The screen lights stay on for hours. First, I thought it was the notifications causing this, then without any notification, it is still lighting up itself. The battery is about to die, Please help."
"My samsung galaxy mega is brand new, never dropped, never got wet..PERFECT condition! I just clicked on google to look something up and my screen went black, it shut off and won't turn on AT ALL. The battery is fully charged, I took the battery out to see if that would work and it didn't. It's been an hour and still nothing?"
R.I.P Mega
You can see our original repair blog here: Samsung Mega Common Problems
All in all, it was a good attempt to bring the phone back into life.  We still hear two to three times a day from other owners of the Galaxy Mega who are having frustrations – and our personal advice would be to take Samsung up on the replacement offer.  The time may not be yet for something that takes on the challenges the Mega does, but we know they tried hard.  Kudos, Samsung – sometimes even the best designs just don't make it, but you aren't giving up without a fight!
Have a question or comment for us here at Phone Doctors?  Leave your comment below, or drop us a line.  We'd love to hear from you!