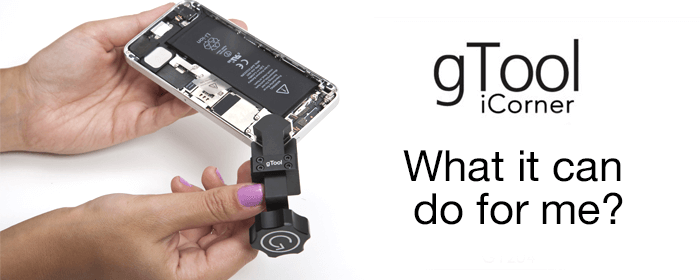 Bent iPad, iPhone, and iPod frames are no longer a problem thanks to this new precision tool. Damaged frames can be a nightmare on Apple devices. Once the frame is bent, you have to use some type of force to get everything back into place. Hammers, chisels and pry tools will normally get your frame close to straight, but even this method can cause problems. Phone and tablet screens never want to sit back in place, as they were brand new, due to a frame that isn't perfect. That is provided you can even get your phone open in the first place.
Anyone who has attempted to repair an iPhone knows that the screens can be almost impossible to remove at times. Did you know that it takes almost 13lbs worth of brute force to open a newer iPhone? Yes, there are "make do" methods; suction cups, razor blades, and other pry tools will get you in, but you can damage the frame and internal components along the way. Our friends at gTool as come up with a solution in the Screen Jack.
The gTool Screen Jack is an efficient tool designed to help you open your iPhone without risking further damage to your device. Save time, and avoid dangerous or inadequate tools like suction cups or razor blades with the Screen Jack. This opening tool uses 2 extra padded suction cups that delivers the pressure required to open any almost any Apple phone without risking further damage to the frame. If you have your own repair shop, or frequently repair devices for friends, this device will give you peace of mind knowing you won't damage any other parts.
Now that your in the iPad, iPhone or iPod, the repair should be easy, right? Normally yes, but what happens when your iPhone's frame was bent during the same drop that broke your screen? It's not just hypothetical, we here at Phone Doctors have had phones and tablets that were run over by cars! Believe it or not, gTool has come up with a way to bend Apple frames back into place with their new iCorner line.
The iCorner is a precision tool designed to mold your Apple device's frame back into place. Corners, sides, and every area in between can now be fully restored. You will not need hammers or chisels as the iCorner can be easily hand tightened to allow you to replace the screen on your device. For those who repair mobile devices on a regular basis, gTool has also come up with a way to free up your hands while using the iCorner.
If you have a repair shop, you don't want to set your gTool in the wrong place, and not be able to find it when you need it. gTool has come up with a grip assistant set that can easily allow you to mount your iCorner onto any table top. You can turn any open area into a "vice grip" style work bench with this tool. This way, every technician in your shop will have access to your gTool set, and you can ensure high quality molds everytime. Once you start using the iCorner by gTool, you will not stop.
The iCorner precision heads do wear down over time. Yes, gTool has even solved this problem thanks to replacement head sets for every model of the iCorner. Simply loosen the screws on your current iCorner, switch out the head set, and you are back in business. The best way to find out about the gTools, is to just try them out on your own. Just in case your still not convinced, here's one last look at this amazing repair tool in action: